Vaani Kapoor slays in peach pink Anarkali ethnic outfit at bestie Anushka Ranjan's sangeet
Vaani Kapoor peach pink Anarkali ethnic outfit: In an era of splendid weddings and joyous celebrations, Bollywood's latest couple, Aditya Seal and Anushka Ranjan, are about to embark on their journey together.
Their grand wedding is scheduled for November 21, and in anticipation of the big day, the couple organized a spectacular three-day pre-wedding event. Among these festivities, the sangeet ceremony stood out as a night filled with music, dance, and unforgettable moments.
Inside Anushka Ranjan & Aditya Seal's pre wedding celebration: Alia Bhatt, Vaani Kapoor, Athiya Shetty enjoy
As the bride-to-be, Anushka Ranjan, prepared to dazzle the attendees with her charm and elegance, her dear friend Vaani Kapoor, who also played a significant role as a bridesmaid, was equally breathtaking. Vaani's presence at the event added an extra layer of glamour and grace to the festivities.
Her stunning appearance was marked by an ethereal peach pink Anarkali ethnic outfit that exuded an air of timeless beauty.
The Anarkali ensemble gracefully cascaded down to her ankles and was adorned with a matching organza dupatta, creating an aura of traditional splendor. Vaani Kapoor's sartorial choice showcased the timeless appeal of Indian ethnic wear, proving that classics never go out of style.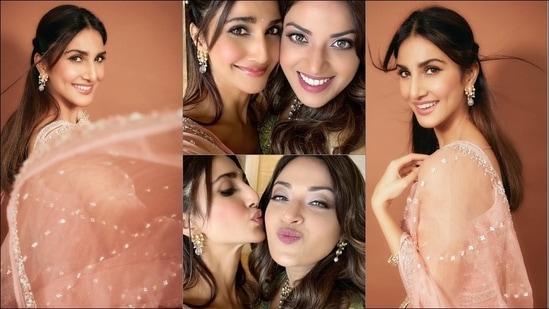 Vaani further elevated her look with thoughtful accessories, embracing the beauty of simplicity. She adorned her wrists with statement gold bangles, exuding an air of understated elegance. Her choice of delicate drop diamond earrings added a touch of sophistication to her ensemble. The overall effect was nothing short of mesmerizing.
Vaani Kapoor Is A Sight To Behold In Peach Ethnic Outfit, See Her Drop-dead Gorgeous Pics
A hint of pink lip gloss complemented her captivating makeup, which featured rosy blushed cheeks and highlighted features. Her eyes were beautifully accentuated with kohl-lined eyelids and expertly applied black eyeliner. Vaani's eyelashes were accentuated with mascara, and her eyebrows were perfectly filled in.
For her hair, Vaani chose a half-clutch style, sweeping her silky tresses to the back while leaving them flowing freely down her back. The final result was a harmonious blend of traditional and contemporary elements, showcasing Vaani Kapoor's versatile fashion sense and her ability to effortlessly blend modern and traditional styles.
Amidst the joyous celebrations, Vaani Kapoor was seen sharing heartwarming moments with the bride-to-be, Anushka Ranjan. Their laughter and exchange of flying kisses illuminated the sangeet ceremony, adding to the overall charm of this delightful pre-wedding event. Vaani Kapoor's presence, coupled with her stunning attire and graceful demeanor, made her an unforgettable part of this grand celebration.
As Aditya Seal and Anushka Ranjan's wedding day draws near, these pre-wedding festivities have set the perfect tone for their journey into matrimony. The sangeet ceremony, filled with music, dance, and the warmth of friends and family, was undoubtedly a night to remember. Vaani Kapoor's role as a bridesmaid and her enchanting appearance further enriched the celebration, making it a magical and unforgettable event.
Conclusion of World Indian Bollywood Actress Vaani Kapoor Fashion Portal – Life Style | HD Wallpaper – Hot Photo Gallery Latest News & Updates
We'll be updating this page with more updated World Women Portal Latest News & Update.
Join World Women Portal by clicking on the link provided Facebook, Twitter, and Pinterest using the share buttons below.
You are reading this article via "World Women Portal", thank you very much for reading our article. Friends If you liked this article, please share it with your friends.