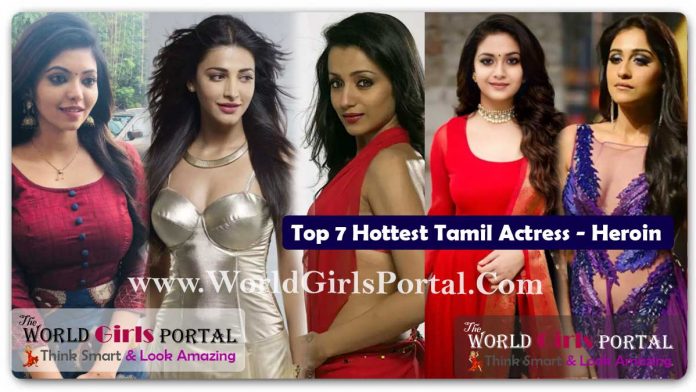 List of Top 7 Hottest Tamil Actress Name List with Photos – Actress – Social Star – Kollywood Heroin – Tamil Girls with Sort Bio-Data, Wiki, Details
Top 7 Hottest Tamil Actress Name: Here is the list of most popular Tamil Origin Actress name list with photo, Tamil Film industry is based in Tamil Nadu, India and it is also called Kollywood. Tamil or Kollywood film industry is 2nd largest film industry in India. The First Tamil movie "Keechaka Vadham" was released in 1918.
Tamil film industry always gives opportunities to newcomer actor and actress. Many actress jumped to other language movies like Telugu, Hindi and Kannada after successful debut from Tamil films. They are popular in other Film industries as well. Huge fan following of Tamil actress shows their popularity throughout the country.
1. Trisha Krishnan
Indian Actress Trisha Krishan is popularly known as Trisha, she is an Indian Tamil Actress and model who mainly works in Tamil, Telugu films and few Hindi Films. Trisha started her career in modeling and winning several beautiful contests, in 1999.
She participates in Miss Salem and won, and later in the same year. She contests Miss Chennai and won the contest which leads to enter the film industry. Her first film is a support role in the film Jodi in 1999 and the first film as a lead role in the movie Mounam Pesiyasdhe in 2002.
Trisha comes to fame from the film Saamy in 2003, Gilli in 2004, Aaru in 2005. Her first Debut Telugu movie is Nee Manasu Naaku Telusu in 2003. Trisha got her first award for the Best Actress for the Telugu Film Varsham of 2004 by Filmfare Awards.
She is nominated for 51 Awards and Won 33 awards till 2019. And she is one of the best Tamil Actress and Telugu Actress. The upcoming films of Trisha in Tamil is Ponniyin Selvan, Garjanai, Sathuranga Vettai 2, Raangi, and in Malayalam is Ram.
2. Shruti Haasan
Shruti Haasan's full name is Shruti Rajalakshmi Hassan with the nickname Kanna. She is an Indian Tamil actress and singer works in Tamil, Telugu, Hindi films and American web series. Haasan debut movies as a child actor in the movie Hey Ram in 2000.
She debuts as a lead actor first in Hindi movie Luck in 2009, then in the Telugu movie Anaganaga O Dheerudu in 2011, and in the Tamil film 7 am Arivu in 2011, she also acted in an American Web Series Treadstone in 2019.
Tamil Actress Shruti Haasan was born on 28 January 1986 in Chennai, Tamil Nadu. She is the daughter of actor Kamal Hassan and an actress Sarika Thakur, she has a younger sister Akshara Haasan.
The height and weight of Shruti Haasan is 170 cm [5.7 feet] and 55 Kgs with Black hair color and hazel Brown eye color.
3. Keerthy Suresh
Beautiful Actress Keerthy Suresh is an Indian Tamil Actress who mainly works in Tamil, Telugu, and Malayalam movies. Keerthy Suresh Debut's acting career in the film Pilots a Malayalam as a Child Actor in 2000 at the age of 8.
In 2013 in the Malayalam movie, Geethanjali is her debut movie as a lead actress, Idhu Enna Maayam is her Tamil Debut in 2015 and Nenu Sailaja is her Telugu Debut in 2016. Keerthy knew from the role in the Tamil films Rajini Murugan and Remo.
Savitri is the famous role of Keerthy Suresh in the biographical film Mahanati of 2018 is based on the life of actress Savitri and she won National Award for Best Actress for this film too. Keerthy was nominated for 19 awards till 2019 and she won 12 out of them.
Her Upcoming films are Marakkar: Arabikadalinte Simham and Vaashi in Malayalam, Good Luck Sakhi and Sarkaru Vaari Paata in Telugu and Annaathe and Saani Kaayidham in Tamil.
4. Regina Cassandra
Indian Actress Regina Cassandra is one of the Tamil Indian actresses who born in Tamil Nadu.
She is popularly known and call as Regina, she debuts her career in the Tamil movie Kanada Naal Mudhal in 2005. and Kanada Debut movie is Suryakaanti in 2010 actually it was her debut movie as a lead actress and Telugu Debut in Shiva Manasulo Shruti in 2012. so she is on the Tamil actress name list. we also going to add the full Regina Cassandra Tamil movie list soon.
Tamil Actress Regina Cassandra is tamil actress born in Tamilnadu on 13 December 1990 in Chennai, Tamil Nadu, India. The height and weight of Regina Cassandra are 5.6 Feet [ 168cm] and 56Kgs [123 pounds] with Black hair color and brown eye color.
5. Athulya Ravi
Indian Actress Athulya Ravi is an Indian Tamil actress, she started her acting career and made her debut in Kadhal Kan Kattudhe in 2017, before this lead role she also acts in a short film Palvadi Kadhal.
Divya Ravi is the real name of Athulya and she is Tamil actress born in Tamilnadu on 21 December 1994 in Coimbatore, Tamil Nadu, India. Athulya born to Ravi and Vijaya Lakshmi Ravi and she has a Brother Divakar, she is currently unmarried. The height of 162 cm [5.4 Inches] and with the approx weight of 52 Kgs and the hair and eye color is brown and black respectively.
6. Sai Dhanshika
Sai Dhanshika is Popularly known as Dhanshika is a Tamil Actress of Indian Cinema. She started her film career in the film Manathodu Mazhaikalam in 2006 as a support role. In 2009, she made a Kanada Debut in Kempa, and in the same year, she works in a lead role in the film Peranmai. This film gave her fame and get a chance in more films.
She made Malayalam Debut in the film Solo. Her first role was said to in the film Thirudi of 2006 which is uncredited. In 2012 she won an award for the film Arvaan for Most Daring Role and also won two consecutive awards as best supporting actress for Paradesi movie. she is also known as the Peranmai movie actress, In this Tamil Debut movie her played a recognized role of her career.
Hottest Tamil actress Dhanshika was born on 20 November 1989 in Thanjavur District of Tamil Nadu state, India. Sai Dhanshika's height is 170 cm [5.7 feet] with an approx weight of 52 kgs and she black Hair color and brown eye color.
7. Priya Bhavani Shankar
Tamil Actress Priya Bhavani Shankar's birth name is Sathyapriya Bhavani Shankar, she is a Tamil Indian actresses . Priya Bhavani enters the media industry as a News Reader in a Tamil News Channel Puthiya Thalaimurai after completed her Master's in Business Administration [MBA]. Will working as a news presenter she also worked in a serial Kadhal Mudhal Kalyanam Varai of Star Vijay Television.
Bhavani Shankar made her debut movie with Meyaadha Maan in 2017 and in the following year she worked alongside Karthi in the film Kadaikutty Singam and she also appeared on the web series Time Enna Boss a web series of Amazon Prime. The upcoming films of Priya Bhavani Shankar are Kuruthi Aattam, Oh Manapenne, Bommai, Hostel, Rudhran, Indian-2, Pathu Thala, and two more untitled films.
Priya Bhavani was born on 31 December 1989 in Tamil Nadu, India. Her father is Bhavani Shankar and Thangam Bhavani is her mother's name, she has a younger brother Shiv Bhavani. The height of Priya Bhavani is 5.6 inches [170 cm] with an approx weight of 58 kgs with black eye color and hair color.
Conclusion of World Indian Bollywood Actress Fashion Portal – Life Style | HD Wallpaper – Hot Photo Gallery Latest News & Updates
We'll be updating this page with more updated World Women Portal Latest News & Update.
Join World Women Portal by clicking on the link provided Facebook, Twitter, and Pinterest using the share buttons below.
You are reading this article via "World Women Portal", thank you very much for reading our article. Friends If you liked this article, please share it with your friends.