Jennifer Lawrence's Radiant Maternity Glow: A Dazzling Mom-To-Be in Sparkly Dior Gown
Jennifer Lawrence sparkly Dior gown: The red carpet of Netflix's highly-anticipated "Don't Look Up" premiere lit up with a radiant glow as Hollywood star Jennifer Lawrence made a dazzling appearance. Her return to the star-studded event not only marked a momentous occasion but also unveiled her beautiful baby bump in all its glory.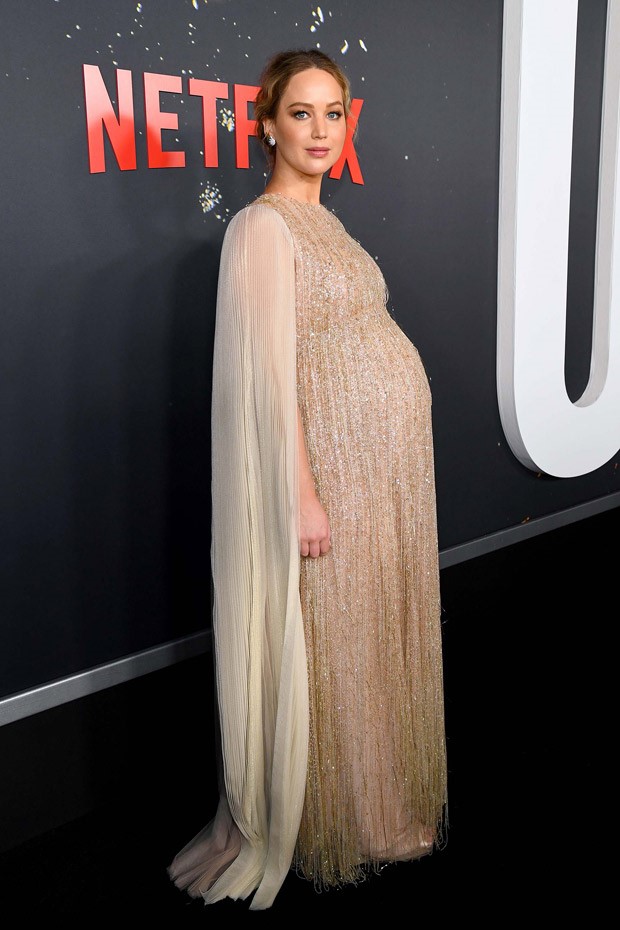 Jennifer Lawrence, known for her timeless elegance and poised fashion choices, looked resplendent in a golden sequinned gown by the iconic fashion house, Dior. Being an ambassador of the brand, her access to the latest trends from the season was no surprise.
The gown was a masterpiece, featuring long pleated cape sleeves that added a perfect balance to the shimmer, creating a mesmerizing dance with every step she took. The dress's golden allure made her glow even brighter, and the world couldn't help but admire her radiant charm.
Jennifer Lawrence's choice of Tiffany & Co. "Flame" earrings was not just a fashion statement; it was a reminiscence of her iconic role in the "Hunger Games." These earrings added a touch of nostalgia while elevating her overall look.
As she graced the red carpet with her pregnancy glow and impeccable style, Jennifer Lawrence once again proved that she is a true fashion icon. Her elegant appearance in the sequinned Dior gown was nothing short of breathtaking.
Conclusion of World Women Portal
Jennifer Lawrence's presence at the "Don't Look Up" premiere was a moment to remember. Her choice of the golden sequinned Dior gown showcased her innate sense of style and fashion. This iconic appearance, paired with her radiant baby bump, solidified her status as a dazzling mom-to-be in the world of Hollywood's elite.
The Tiffany & Co. "Flame" earrings were the perfect touch of nostalgia and added to the allure of her ensemble. Jennifer Lawrence continues to captivate our hearts with her fashion and elegance, setting the bar high for red carpet appearances.
Join World Women Portal by clicking on the link provided Facebook, Twitter, and Pinterest using the share buttons below.
You are reading this article via "World Women Portal", thank you very much for reading our article. Friends If you liked this article, please share it with your friends.