Farzi Web Series (TV Series 2023) | Release Date, Review, Cast, Trailer
Farzi Web series Trailer : बॉलीवुड अभिनेता शाहिद कपूर और विजय सेतुपति की डेव्यु सीरीज 'फर्ज़ी' का ट्रेलर सामने आ चुका है। फिल्म का ट्रेलर दमदार लग रहा
Farzi Plot / Story
अमेज़न प्राइम ने फ़र्ज़ी नाम की अपनी नई वेब सीरीज़ की रिलीज़ डेट की घोषणा कर दी है। शाहिद कपूर वेब सीरीज 'फर्जी' से ओटीटी की दुनिया में डेब्यू करने जा रहे हैं।
उन्होंने इस वेब सीरीज में सनी का किरदार निभाया है जो तकनीक की मदद से लोगों को धोखा देती है।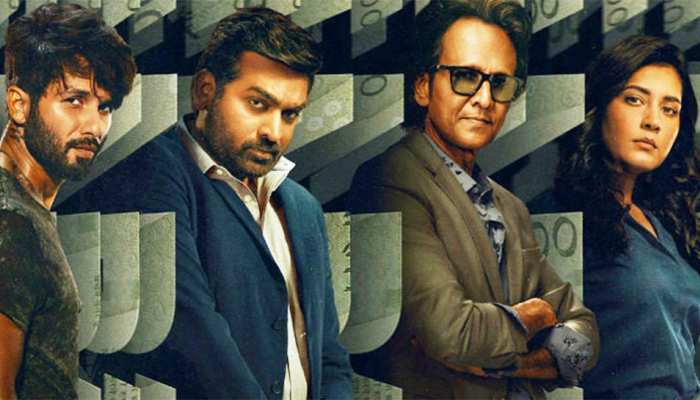 शाहिद के अलावा साउथ स्टार विजय सेतुपति भी इस वेब सीरीज के जरिए ओटीटी प्लेटफॉर्म पर डेब्यू कर रहे हैं। इस वेब सीरीज़ में शाहिद कपूर और विजय सेतुपति के अलावा के के मेनन, राशि खन्ना, भुवन अरोरा, ज़ाकिर हुसैन, कुब्रा सैत, रेजिना कैसेंड्रा और अमोल पालेकर जैसे कई सितारे मुख्य भूमिकाओं में हैं।
इस वेब सीरीज का निर्देशन अमेजन प्राइम की मशहूर सीरीज द फैमिली मैन 1 और 2 के निर्देशक राज एंड डीके ने किया है। फेक वेब सीरीज 10 फरवरी को अमेजन प्राइम वीडियो पर रिलीज होगी, जिसमें कुल 8 या 9 एपिसोड होंगे।
Farzi Web Series (2023) | Release Date, Review, Cast, Trailer
Title
Farzi
IMDb Rating
**** Rating */10
Content-Type
Web-Series
Content Rating
UA
Release Date
10 February 2023
Release Time
12:00 AM
Language
Hindi
Genre
Crime, Drama, Thriller
Season
1
Total Episode
9
Total Time
Update Soon
Director
Raj & DK
Production Company
D2R Films
Producer
Raj & DK
Dialogue
Hussain Dalal
Writer
Not Known
Production Designer
Parichit Paralkar
Streaming On
Amazon Prime Video
Main Star Cast
Shahid Kapoor
Vijay Sethupathi
Raashi Khanna
Kay Kay Menon
Farzi Cast
| | | |
| --- | --- | --- |
| Sr. No. | Real Name | Role Name |
| 1 | Raashi Khanna | Not Known |
| 2 | Vijay Sethupathi | Michael |
| 3 | Shahid Kapoor | Sunny |
| 4 | Kay Kay Menon | Not Known |
| 5 | Regina Cassandra | Not Known |
| 6 | Zakir Hussain | Not Known |
| 7 | Bhuvan Arora | Not Known |
| 8 | Amol Palekar | Not Known |
| 9 | Kubbra Sait | Not Known |
FARZI – Official Trailer | Raj & DK | Shahid, Sethupathi, Kay Kay, Raashii | Prime Video India
Farzi Webseries Trailer : बॉलीवुड अभिनेता शाहिद कपूर और विजय सेतुपति की डेव्यु सीरीज 'फर्ज़ी' का ट्रेलर सामने आ चुका है। फिल्म का ट्रेलर दमदार लग रहा है सीरीज ओटीटी प्लेटफॉर्म प्राइम वीडियो पर स्ट्रीम होगी। यह एक एक्शन ड्रामा सीरीज होने वाली है जिसका निर्देशन राज एंड डीके ने किया है जो इससे पहले द फैमिली मेन' जैसी धमाकेदार वेबश्रृंखला डायरेक्ट कर चुके है।
सीरीज मे आपको शाहिद और विजय के अलावा केके मेनन और राशि खन्ना भी मुख्य किरदारों मे दिखाई देगी। बता दे की यह पहला प्रोजेक्ट है जिसमे शाहिद कपूर और विजय सेतुपति एक साथ नजर आने वाले है।
How is the trailer of Shahid Kapoor upcoming series
In the beginning of the trailer, Shahid Kapoor is seen playing with money in a room, in which he says the dialogue that money cannot buy happiness, it is said by people who do not have money, further he says that rich people have made this system.
In which the poor will repay the loan throughout life and the rich will eat the interest. Further, he talks about bringing revolution to break this system. In fact, it will be shown inside the series that Shahid Kapoor is an artist who can print anything exactly, making this skill his weapon, he talks about printing fake notes.
The trailer then shows Vijay Sethupathi playing the role of a police officer and KK Menon playing the role of a big businessman.
Farzi Web series Download leaked in 1080p, 720p and 480p on Tamilrockers and Telegram to Watch Online
Farzi Web series is Shahid Kapoor's next Hindi web series which will be released on the OTT platform Amazon Prime. Shahid Kapoor played the role of a painter in this web series. Along with the Farzi web series release, Farzi Web series Download has been leaked from the pirated movie downloading website from where people are able to download free 1080p 720p 420p 480p and 360p for free.
Farzi Web Series Download Telegram Link
If you are also looking for Farzi Web series Download Total Episodes FilmyMeet, then you will definitely find its link in this article. But remember that you should watch this type of film in a theatre. But for your convenience, you have been provided with its link below.
Join Farzi Web Series Telegram Channel
The Farzi Web series Download makes clear that Shahid Kapoor is eager to amass wealth. He starts producing phoney currency to accomplish this. Vijay Sethupathi, a police officer, has been tasked with finding Shahid Kapoor, who has turned to crime, in this manner.
Frequently Asked Question (FAQ)
फ़र्ज़ी वेब सीरीज़ की रिलीज़ डेट क्या है?
अमेज़न प्राइम वीडियो में ताज़ा ख़बर सीरीज़ की रिलीज़ डेट का समय 10 फरवरी 2023 है।
फ़र्ज़ी वेब सीरीज़ के डायरेक्टर कौन हैं?
फर्जी वेब सीरीज के डायरेक्टर राज एंड डीके हैं।
क्या हम फ़र्ज़ी वेब सीरीज़ अपने परिवार के साथ बैठकर देख सकते हैं?
हाँ, आप चाहें तो फ़र्ज़ी वेब सीरीज़ अपने परिवार के साथ बैठकर देख सकते हैं।
Conclusion of Bollywood Film, South Indian Movie, Hollywood, Web Series – News & Updates
Finally, if you need anything else, or have inquiries, questions you would love us to answer, kindly use the comment box below to reach us. We'll be updating this page with more updated World Women Portal Latest News & Update.
Join World Women Portal by clicking on the link provided Facebook, Twitter, and Pinterest using the share buttons below.
You are reading this article via "World Women Portal", thank you very much for reading our article. Friends If you liked this article, please share it with your friends.