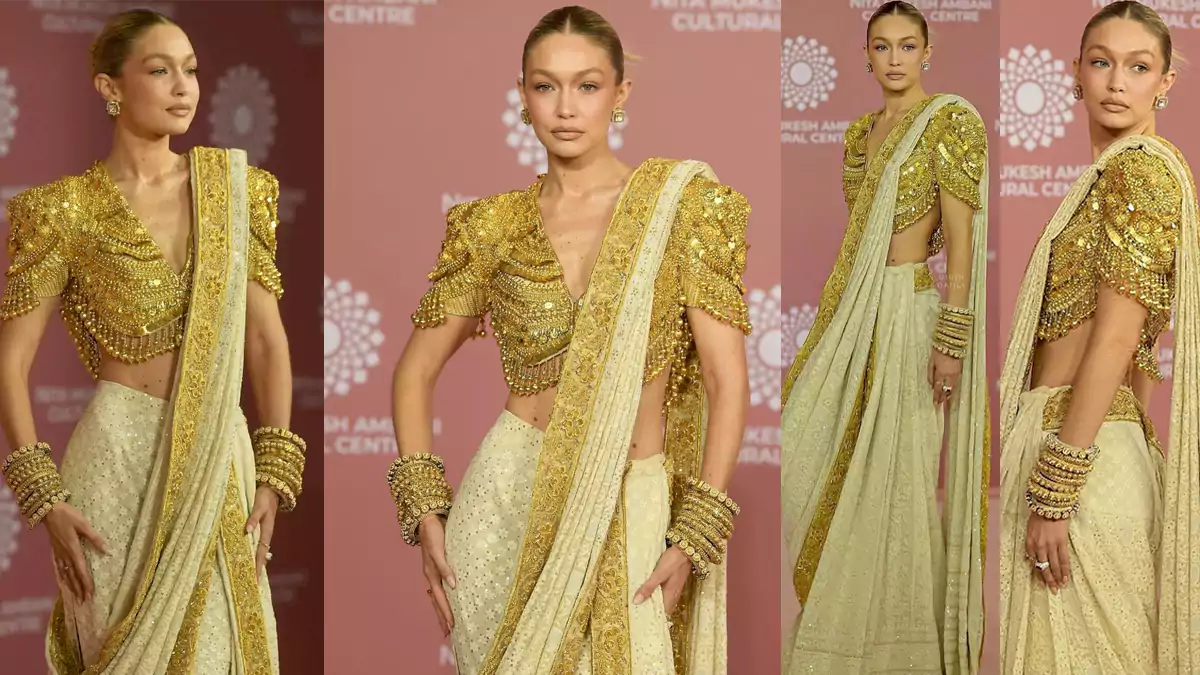 Gigi Hadid Chikankari Saree And Gold Blouse: Several international stars, including Gigi Hadid, Zendaya, and Tom Holland, along with well-known Bollywood personalities, attended the grand opening of the Nita Mukesh Ambani Cultural Centre (NMACC).
Gigi Hadid came, saw and danced the night away but never lost sight of how glorious she looked!
Gigi Hadid stole our hearts and minds in this gold and white saree
Gigi Hadid addressed the media and posed for the cameras, stunning everyone with her desi look in Mumbai.
She wore a gorgeous gold and white saree designed by Abu Jani and Sandeep Khosla, paired with an intricately embroidered blouse featuring a plunging neckline.
Gigi Hadid accessorized her traditional attire with large bangles and earrings and styled her hair in a high bun with a centre part.
Gigi Hadid Were Golden Chikankari Saree at the NMACC Fashion Gala – Gigi Hadid Chikankari Saree And Gold Blouse
Gigi Hadid's breathtaking look in gold and white saree won hearts in India. People showered immense love in the comment section of the viral video. One of the users wrote, "Can't take my eyes from her." Another user wrote, "Omg, she is looking so beautiful." The third one said, "Goddess of the goddesses."
For the Nita Mukesh Ambani Cultural Centre day 2 event, Gigi Hadid wore a gold and white saree by Abu Jani and Sandeep Khosla. The chikankari saree drape was paired with a modest skirt and a cropped sleeve blouse featuring tassels.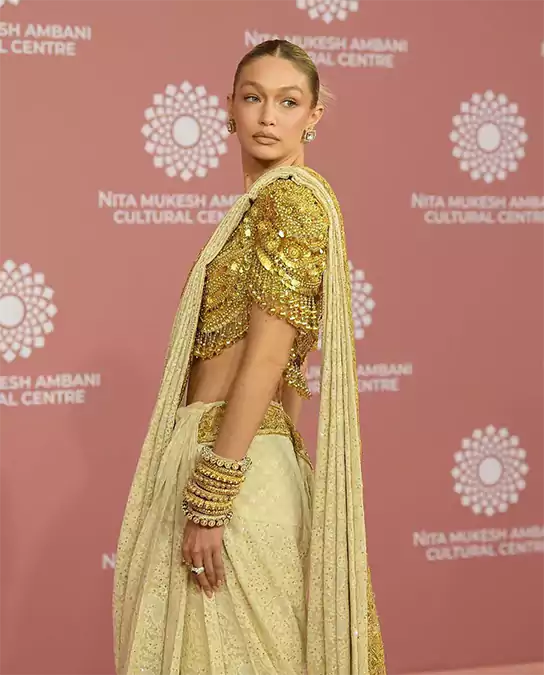 She accessorized with South Indian temple jewellery and large bangles. The traditional ensemble was highlighted with intricate gold zardozi borders and crystal and sequin embellishments. The outfit was meticulously hand-embroidered at the designers' atelier in Lucknow, Uttar Pradesh.
American Model Gigi Hadid Wear Indian magnificent ivory and gold saree by Fashion Designer Abu Jani Sandeep Khosla
Gigi Hadid wearing a magnificent ivory and gold saree, designed by Abu Jani Sandeep Khosla. The Lucknawi saree was hand-embroidered using intricate chikankari stitching techniques, taking a year to complete. The supermodel paired the saree with a structured gold blouse adorned with tassels on all sides, making it a true masterpiece.
Gigi Hadid's ensemble was further accentuated with thick traditional bangles on both her hands and South Indian temple jewellery. Her fresh makeup and sleek bun perfectly complemented the grandiose of her outfit.
Gigi Hadid on 'unforgettable first India trip' – Gigi Wearing Traditional Golden Indian Saree with Jewelry
The world knows the iconic pink carpet of the Met Gala in New York but after the weekend that was, we can easily put another pink carpet on the fashion world map.
The launch of the Nita Mukesh Ambani Cultural Centre was a spectacle for the arts and the fashion world but no less than grand with the appearances of some of fashion's most influential people.
The grand opening of Nita Mukesh Ambani Cultural Centre (NMACC) is becoming bigger and better with each passing day. On day 2, Gigi Hadid, Zendaya, Tom Holland, Penelope Cruz and others upped the glamour quotient.
Here, we round up the show-stopping looks we spotted at Mumbai's Nita Mukesh Ambani Cultural Centre Gala.
Zendaya
Gigi Hadid
Priyanka Chopra and Nick Jonas
Tom Holland
Penélope Cruz
Liza Koshy
Law Roach
Conclusion of Hollywood Actresses Fashion, Life Style, Health & Fitness News & Updates
Finally, if you need anything else, or have inquiries, questions you would love us to answer, kindly use the comment box below to reach us. We'll be updating this page with more updated World Women Portal Latest News & Update.
Join World Women Portal by clicking on the link provided Facebook, Twitter, and Pinterest using the share buttons below.
You are reading this article via "World Women Portal", thank you very much for reading our article. Friends If you liked this article, please share it with your friends.