Gadar 2 Story leaked: In the year 2001, famous director Anil Sharma's film 'Gadar: Ek Prem Katha' rocked the box office. This film gave Bollywood actor Sunny Deol a different identity among the audience. Once again 'Tara Singh' is coming to rock the box office. The most awaited film Gadar 2 is going to release in theaters on August 11 this year.
बॉलीवुड के दिग्गज अभिनेता सनी देओल (Sunny Deol) की मोस्ट अवेटेड फिल्म 'गदर 2 (Gadar 2)' इसी साल 11 अगस्त को सिनेमाघरों में रिलीज होने वाली है. इस फिल्म को लेकर दर्शकों में गजब की उत्साह है, क्योंकि २१ साल के बाद फिर से सनी देओल और एक्ट्रेस अमीषा पटेल की जोड़ी को फिर से पर्दे पर किस तरह दिखाया जाएगा.
Upcoming Indian Film Sunny Deol और Ameesha Patel की गदर 2 की कहानी रिलीज से पहले हुई लिक
आज से 21 साल पहले जब 'गदर' सिनेमाघरों में रिलीज हुई थी, तो हर तरफ सिर्फ तारा सिंह और सकीना की ही चर्चे थे और अब दर्शकों को एक बार फिर से तारा-सकीना को एक साथ देखने का मौका मिलने वाला है. लोग यही सोच रहे हैं कि इस बार फिल्म की कहानी क्या होगी?
इसी बीच फिल्म की कहानी लीक हो गई है. पिंकविला की एक ताजा रिपोर्ट के अनुसार, 'गदर 2' की कहानी 1970 में हुई भारत-पाकिस्तान के बीच की लड़ाई के आसपास घूमती दिखाई देगी. फिल्म में सनी के बेटे 'जीते (Jeete)' यानी उत्कर्ष शर्मा इस बार एक सैनिक के रूप में नजर आएंगे.
पिछले बार जहां तारासिंह अपनी पत्नी को भारत वापस लाने के लिए पाकिस्तान चला गया था, वहीं खबरों की माने तो इस बार तारा अपने बेटे की जान बचाने के लिए पाकिस्तान की सीमा पार करेगा. फिल्म से जुड़े सूत्र ने पोर्टल से बातचीत में बताया कि 'गदर' में दर्शकों को तारा-सकीना की लव स्टोरी दिखाई गई थी.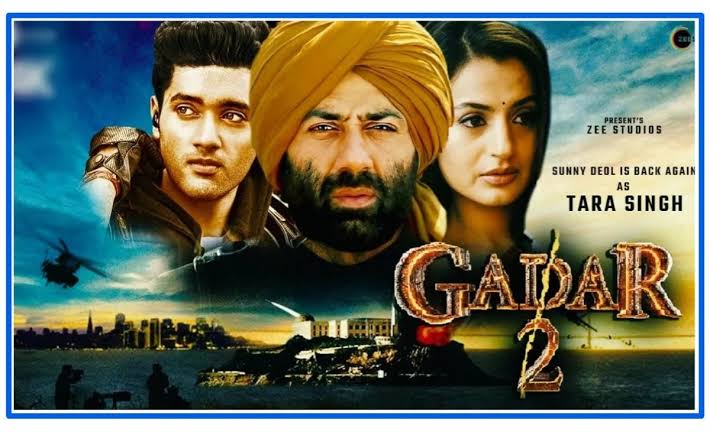 वहीं, 'गदर 2' में अनिल शर्मा 1971 की भारत-पाकिस्तान लड़ाई पेश करेंगे, जिसमें उत्कर्ष शर्मा एक भारतीय सैनिक के किरदार में नजर आएंगे. सूत्र ने आगे बताया कि इस लड़ाई के दौरान तारा सिंह के बेटे की जान पर खतरा आता हे और फिर अपने बेटे को बचाने के लिए तारासिंह एक बार फिर से पाकिस्तान में घुसेगा.
तो इससे ये साफ होता है कि जहां 'गदर' की कहानी तारा सिंह और सकीना की लव स्टोरी पर बेस्ड थी, तो वहीं 'गदर 2' में तारासिंह -जीते यानी बाप-बेटे के बीच प्यार को अनिल शर्मा दर्शाते नजर आएंगे. वैसे, फिल्म की कहानी जो भी, इसमें कोई शक नहीं कि 'गदर 2' की पूरी टीम को दर्शकों का भरपूर प्यार मिलता दिखेगा, क्योंकि फिल्म को लेकर सोशल मीडिया पर जो बज नजर आ रहा है, उसे नकारा नहीं जा सकता.
Gadar 2 Cast
Gadar 2 Cast Details
Sunny Deol
Ameesha Patel
Utkarsh Sharma
Simrat Kaur
Luv Sinha
Manish Wadhwa
Sajjad Delafrooz
Gaurav Chopra
Rohit Choudhary
Dolly Bindra
Gadar 2 Movie Reviews in Hindi
दोस्तों ग़दर 2 बालीवुड की आनेवाली एक धमाकेदार फिल्म है। इस फिल्म को देखने के लिए दर्शकों काफी उत्सुक हैं। पूरे 21 साल बाद अभीनेता सन्नी देओल और अभीनेत्री अमीषा पटेल एक बार बड़े पर्दे पर नजर आने वाले है। इस फिल्म के निदेशक और निर्माता अनिल शर्मा है। ग़दर 2 साल 2001 में आई फिल्म " ग़दर एक प्रेम कथा" की सिक्वल है।
Gadar 2 Movie Details
Movie
Gadar 2 (2023)
Director
Anil Sharma
Producer
Rana Bhatia
Kamal Mukut
Anil Sharma
Release date
11 August 2023
Music
Chandan Saxena
Mithun Sharma
Cinematography
Najeeb Khan
Film Editing
Ashfaq Makrani
Casting
Parag Mehta
Budget
110 Crores
gadar 2 story
gadar 2 storyline
gadar 2 film ki story
gadar 2 movie story in hindi
gadar 2 ka story
gadar 2 2023 story
Conclusion of Bollywood Movie News & Updates
Finally, if you need anything else, or have inquiries, questions you would love us to answer, kindly use the comment box below to reach us. We'll be updating this page with more updated World Women Portal Latest News & Update.
Join World Women Portal by clicking on the link provided Facebook, Twitter, and Pinterest using the share buttons below.
You are reading this article via "World Women Portal", thank you very much for reading our article. Friends If you liked this article, please share it with your friends.