The Best Beautiful Muslim woman in the world – List of Top 7 Most Beautiful Muslim Girls / Women – World Women Portal
Top 7 Most Beautiful Muslim Girls / Women: Women belong to any region or religion are beautiful. Because God created everyone on this planet beautiful and special. Beauty is the power of women and it inspires everyone. Here, we come up with a list of top 7 most beautiful Muslim Girls from around the world who are famous due to their glamour, beauty, talent and personality.
1. Rawan bin Hussain
Rawan bin Hussain is a Kuwaiti model, beauty blogger and entrepreneur. Born (Dec 30, 1996) and raised in Kuwait, she is currently lives in London, UK and has attended Law School there. She got the world attention after comparison her look to that of American actress Brooke Shields. With more than 6.1 million followers on Instagram (Report Date 16th Jan 2022), she is the youngest, most popular Muslim woman out there.
2. Ameerah Al-Taweel – Saudi Arabia
Ameera bint Aidan bin Nayef Al-Taweel Al-Otaibi is a Saudi Arabian philanthropist and former princess. Born into a non-royal cadet branch of the Saud dynasty, Ameera was married to Prince Al Waleed bin Talal Al Saud, and assumed the role of Vice Chairperson of Al-Waleed bin Talal Foundation.
3. Nesreen Tafesh – Syria
Here, at number 4, comes the dazzling and adorable Nesrin Tafish. She is a Palestinian actress, born in Aleppo, Syria to the poet and author Yousef Tafesh and an Algerian mother. One of the good looking and attractive Arab women, she works in Syrian entertainment industry. With her beautiful eyes and comeliness, she mesmerize her fans around the globe.
4. Zareen Khan – India
Indian Actress Zareen Khan is one of the most beautiful Muslim women as like her name. She is gorgeous Indian actress and model. Born into a Pathan family, in Mumbai, Maharashtra, India, Khan has worked in several TV serials, commercials, and movies. She garnered recognition from her item number "Character Dheela" in Ready, the highest-grossing Bollywood film. The golden turn comes in her life when she worked with Bollywood Superstar Salman Khan in a film "Veer". She played a role of princess in this film. As she is actually very charming. Her performance in movies are impressive and admirable.
5. Muna AbuSulayman – Saudi Arabia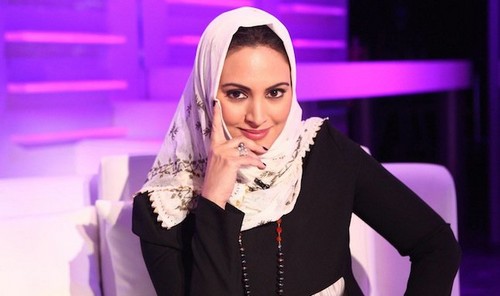 Muna AbuSulayman, is an American-born Saudi businesswoman and activist. She is also the former founding Secretary General of the Alwaleed Bin Talal Foundation, the philanthropic arm of HRH Prince Alwaleed Bin Talal's Kingdom Holding Company and co-host of the Kalam Nawaem television show.
6. Cyrine Abdelnour – Lebanon
One of the most beautiful Middle-Eastern women, Cyrine Abdelnour comes at number 6. She is a gorgeous musician, model and actress. She has released multiple albums that became quite popular in Arab world, especially the single named "Law Bas Fe Aini (If he looks in my eyes)". But other than a great singing voice and decent acting abilities, she has some of the best looks in the world. Cyrine can undoubtedly be considered one of the most beautiful Muslim women.
7. Sheikha Mahra (Mahra bint Mohammed bin Rashid Al Maktoum) – UAE
With Light brown hair, almond skin and brown eyes, this is an Emiriti princess Shaikha Mahra Bint Mohammed Bin Rashid Al Maktoum. She is the daughter of Sheikh Mohammad Bin Rasheed al Maktoum. When her first image comes on social media, everyone like the cute smiling face of princess. She is also a fantastic athlete.
Conclusion of World Indian Bollywood Actress Fashion Portal – Life Style | HD Wallpaper – Hot Photo Gallery Latest News & Updates
Finally, if you need anything else, or have inquiries, questions you would love us to answer, kindly use the comment box below to reach us. We'll be updating this page with more updated World Women Portal Latest News & Update.
Join World Women Portal by clicking on the link provided Facebook, Twitter, and Pinterest using the share buttons below.
You are reading this article via "World Women Portal", thank you very much for reading our article. Friends If you liked this article, please share it with your friends.