Samantha's Style Soiree: Graceful in White Blouse and Skirt Ensemble
Samantha Ruth Prabhu White Printed Blouse and Skirt set: Samantha Ruth Prabhu, the epitome of grace and style, recently graced an event in Hyderabad, accompanied by her friend Shilpa Reddy. The viral photos circulating on social media captured Samantha in a pristine white printed blouse and skirt set, reaffirming her status as a fashion icon.
Simply Graceful: Samantha's White Ensemble Steals the Show
Samantha's fashion choices have always been a source of inspiration, and this event was no exception. The actor embraced simplicity and grace in a white printed blouse and skirt set that showcased her innate sense of style. The ensemble, with its statement-making details, radiated elegance, capturing the essence of Samantha's timeless fashion.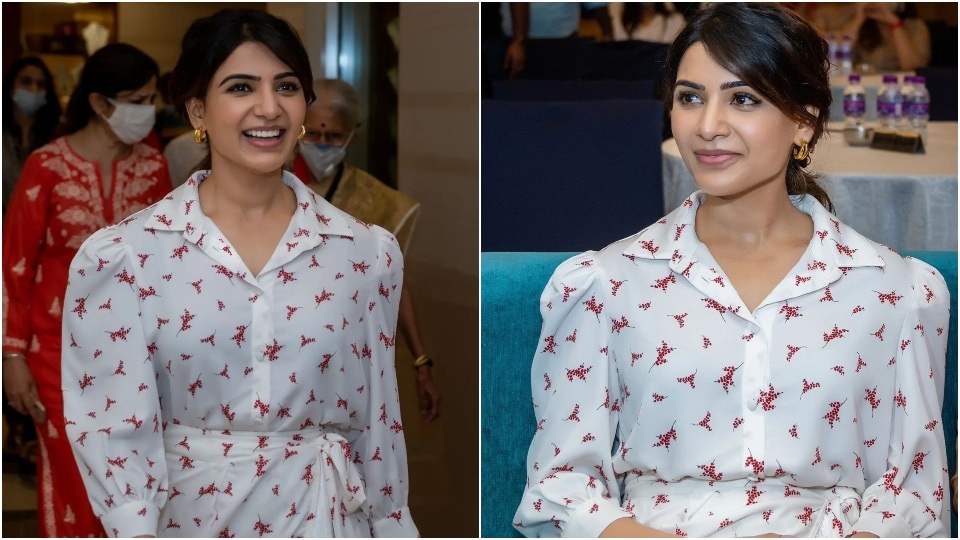 Minimalism Personified: Style Notes from Samantha
In her Instagram stories, Samantha shared glimpses from the occasion, unveiling her choice of a printed white blouse and skirt set. This sartorial decision not only highlighted Samantha's commitment to minimalism but also underscored her preference for comfort in every fashion endeavor. The actor effortlessly blended chic and ease, setting a trend that resonates with fashion enthusiasts.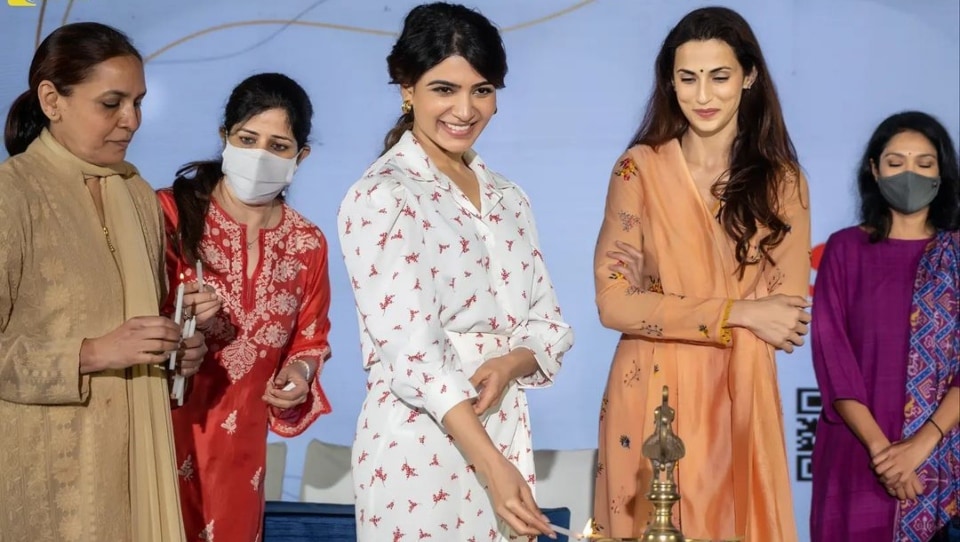 Autumn-Inspired Chic: Samantha's Collared Shirt Delight
The highlight of Samantha's ensemble was a white collared shirt adorned with autumn-inspired red printed leaves. The shirt, featuring button-up details on the front, puffed shoulders, billowy long sleeves, and gathered cuffs, showcased a perfect fusion of sophistication and retro charm. Tucking the shirt into her skirt, Samantha added a chic touch, elevating the entire look.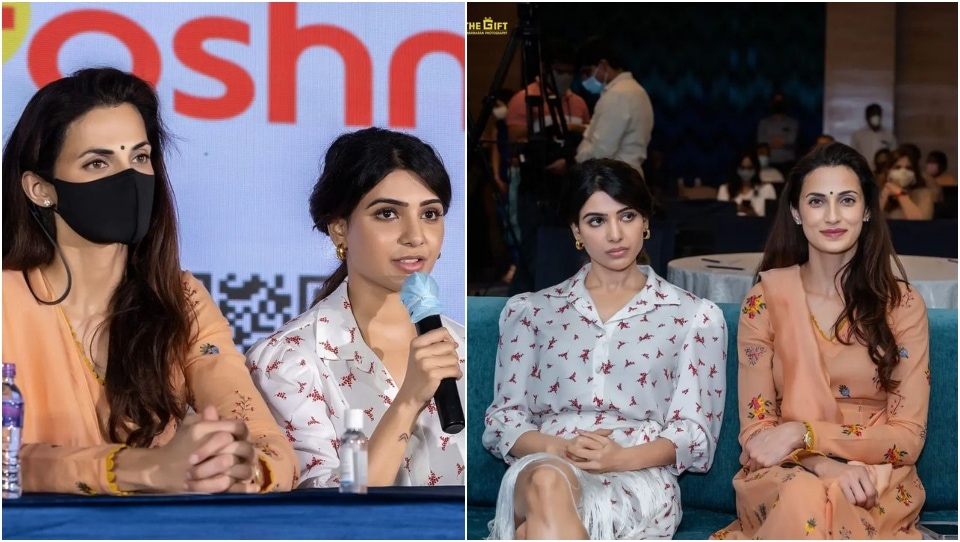 Jaw-Dropping Retro Vibes: Samantha's Event Triumph
Samantha Ruth Prabhu left attendees in awe at the event with her stunning attire. The white ensemble, with its meticulous details and retro vibes, perfectly complemented the actor's inherent charm. Samantha's choice of the autumn-inspired collared shirt demonstrated her ability to infuse creativity into classic pieces, making her a trailblazer in the fashion landscape.
Conclusion: Samantha's White Wonderland
In conclusion, Samantha Ruth Prabhu's appearance at the Hyderabad event showcased her as a vision of elegance. The white printed blouse and skirt ensemble not only reaffirmed her position as a style icon but also provided a masterclass in blending simplicity with sophistication. As Samantha continues to weave her fashion magic, one event at a time, her sartorial choices serve as a beacon for those seeking timeless and graceful inspiration in the world of fashion.
Join World Women Portal by clicking on the link provided Facebook, Twitter, and Pinterest using the share buttons below.
You are reading this article via "World Women Portal", thank you very much for reading our article. Friends If you liked this article, please share it with your friends.